When disaster strikes, keeping communications are the key for first responders. Yet often wireless infrastructures may be damaged, and communications are no longer available. Therefore, it is crucial to have rapid tactical deployable networks to establish instant communication during emergency situations. There are a variety of ways to establish such communications.
Cell-On-Wheels (COWs)
COWs (Cell-on-Wheels) are mobile base station sites that consist of the antenna unit and
eNodeB
on a truck or trailer. COWs are used to provide expanded network coverage and capacity in disaster areas where wireless networks became unavailable due to the disaster. The backhaul to the network can be via microwave, satellite, or existing wired infrastructure.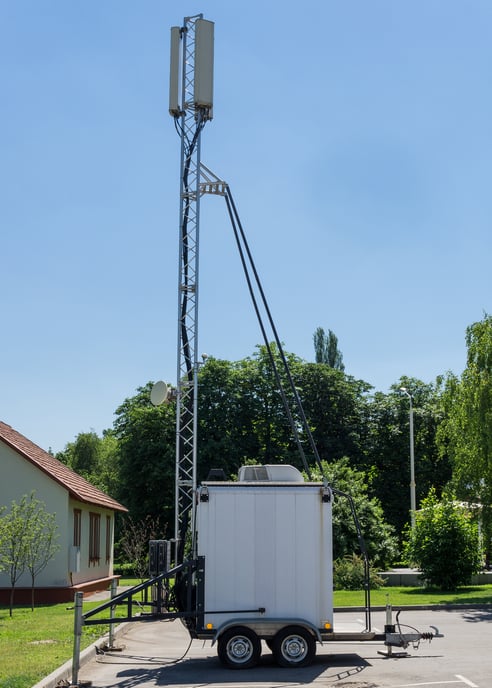 *Typical Cell-On-Wheels Deployment
Network-in-a-Box (NIB)
Network-in-a-Box (NIB) is a transportable device that provides seamless LTE connectivity to mobile users, offering services such as text messages, calls, and internet connectivity. NIB enables portable and rapid deployment of critical communication networks with or without internet backhaul. NIB is suitable for use cases such as after-disaster scenarios, terrorist attacks, and military deployments which require instant network connectivity. The basic structure of NIB includes Evolved Packet Core (EPC), eNodeB, and an application server for PTT and situational awareness applications. The NIB form factor encompasses all these elements within a single box that can be rapidly deployed to provide a temporary LTE network.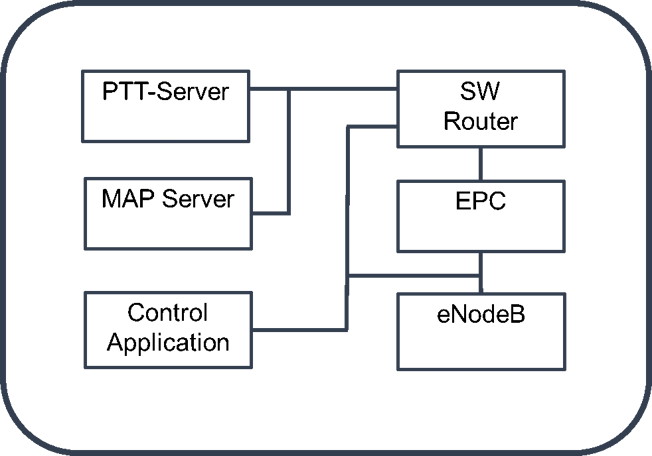 *Typical NIB Architecture
JRC Tactical LTE Box™
JRC Tactical LTE Box™, JRC-172 is a rapid tactical deployable NIB solution with a complete standard-based LTE base station (eNodeB) and core (EPC) packaged in a compact-yet-rugged enclosure that can be carried and installed by one engineer. The JRC-172 also includes a virtual machine server inside that allows you to run various applications such as MCPTT, geolocation, video, text, and file transfer. The JRC-172 provides a complete stand-alone private LTE system whenever and wherever critical communications are required.

For further information, please check out our other blogs and use cases. If you have any questions, please do not hesitate to contact us.